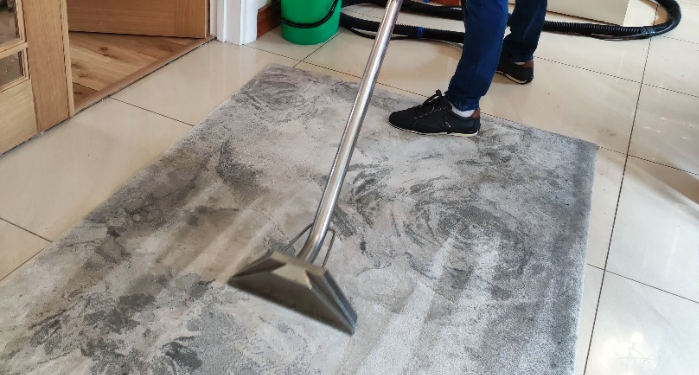 Carpet is one of the most popular items that people use in their homes for decoration. They not only provide warmth and softness to your feet but also add to the style variant of your house. Therefore, they must be kept in pristine condition. People often make mistakes; they strive to clean the carpet on their own and end up damaging the colour and surface of their floor covering.
Carpets are sensitive and must be handled with care. If you want to clean them thoroughly, you may hire specialists to do so on a regular basis. They have experience and access to the right set of tools required to accomplish the task perfectly.
Here we are listing 7 ways through which regular carpet cleaning can help you.
Remove tough stains present on the carpet:


It is not possible to clean the tough stains present on the carpet at home. Therefore, you should hire a professional carpet cleaning company for regular carpet cleaning. They are capable of cleaning the toughest stain without causing a direct impact on the surface. For cleaning purposes, professionals use effective solutions and the latest techniques so that you won't end up with a faded or damaged rug.

Remove Bacteria and germs from the carpet:

A dirty carpet not only reduces the beauty of the room but also helps bacteria and germs to flourish. As the surface of the carpet is not smooth as the floor, it is not easy to clean debris and dust. Thus, you require professional cleaning, as they have access to advanced tools and know how to disinfect the carpet. They destroy bacteria present in the carpet that can cause health issues to elderly people and children.

Extend the life of carpet:

Regular cleaning of the carpet helps in extending the life of the carpet. Since professionals don't take much time to clean carpets, so dust and debris won't accumulate in the fibre which ultimately deteriorates and splits them.

Save your efforts and time:

If you don't have enough time to clean your carpet, then you can call out for professionals who can provide you with end-to-end services. They will ensure you that your carpet is properly cleaned and thus will save you lots of time and effort.

Help you to get your bond money back:


If you are a tenant and living in a rental apartment then you can't afford to have dirty carpets. Because carpets play an important role in the final inspection. Besides, it can be a big reason for conflict between the tenant and landlord. In simple words, if your carpet doesn't find out clean during the time of inspection then the property manager has the right to deduct a hefty amount of money from your security deposit. If you are willing to get your entire amount back, you have to ensure that your carpet is properly cleaned.

No need to invest in expensive tools:

To give a thorough cleaning to the carpet, you need to have access to proper supplies and advanced gadgets. But many people don't have these supplies as these things are expensive. In that case, you can take the support of a professional carpet cleaning company to clean your carpet regularly. Professional cleaners will not only save your time but also make your carpet sparkle like a new one.

Enhance the appearance of the room:

People use carpet to improve the overall look of the room. But if the carpet is dirty and dull. Then it will affect the overall appearance of the room. Because it would be the first thing that anybody notices while entering the room.

Ask A Question

Frequently Asked Questions
Final words: –
It is not at all easy to regularly clean the carpet, for this, you need professional cleaners.  You will pay some money for their service and in return, you will enjoy lots of benefits.