Carpets are attractive compliments to any house. They enhance the beauty and comfort of your floor. However, these materials will not retain their perfect appearance indefinitely unless they are cleaned. Mould and mildew will form on your carpets if you do not clean them. Allowing mould to grow on your carpets might jeopardize their image. So, do you know how to clean mould from carpet? If not, you've come to the correct spot because we're going to discuss it. We're offering the finest mould and mildew remediation advice from service professionals.
Keep water damage at bay:
As soon as it begins to grow, halt the formation of mould and mildew.  Cleaning gutters, unclogging downspouts, and examining your roof are just a few examples of preventative measures you may do to safeguard your carpet. Learn about simple ways to avoid water damage and what to do if flooding occurs. Understand that the presence of standing water is grounds to bring in the specialists right away.
Put a steam cleaner to use:
Heat does not agree with moulds and mildews. Carpet steam cleaners have been proven to be an efficient method for removing fungus. Apply steam to each section of your carpet for at least 12 seconds to guarantee there is no mould in the carpet after steam cleaning. Typically, this carpet cleaning trick lasts for an hour or two. However, this is also dependent on the size of your carpeted space.
Allow your carpet to dry in a cool place after steam cleaning. After a regular steam cleaning, it takes between eight and twenty-four hours for carpets to dry. The drying period will be four to eight hours if you use a new steam cleaner that utilizes less water.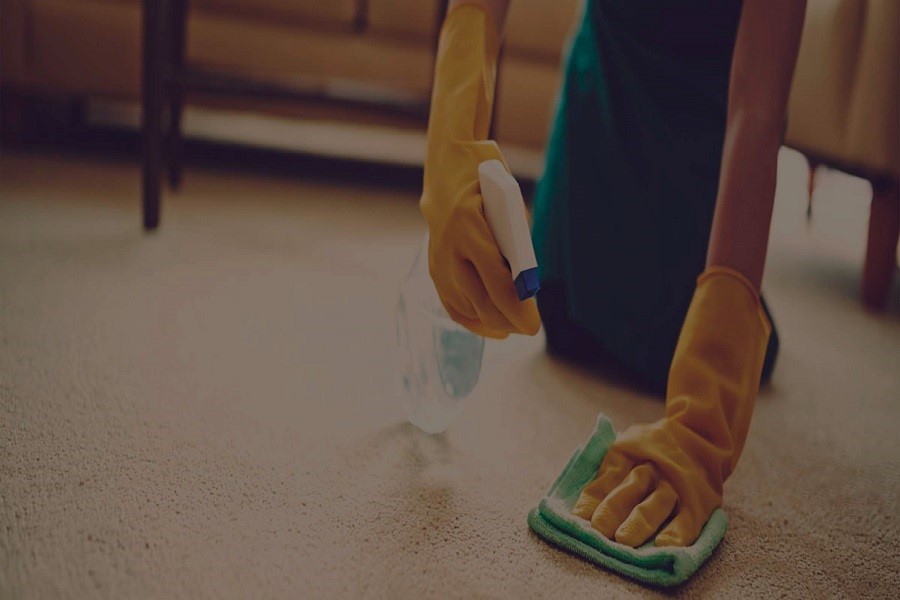 Proper ventilation and isolation are required:
The objective is to maintain the area well-ventilated while preventing the spread of mould spores to other rooms in the house. Use fans to blast air out an open window or door that goes outdoors and close any doors that need to be closed or blocked off with plastic sheeting. When employing cleaning chemicals, it is more necessary to maintain the space well-ventilated than it is to separate the area.
Warm water with dish detergent:
Mould clean-up is not inexpensive, as we all know. Therefore, in terms of cost savings, warm water and dishwashing solutions may be the best option. When cleaning your carpets, use warm water, detergent, and dishwashing liquid. Please keep in mind that this only applies if your carpets can be cleaned with water. To verify that you can wash your carpets with water, check the cleaning directions. Some people dislike water. If it states so in the washing directions, you may just undertake dry carpet cleaning.
Get your carpets cleaned annually:
Although humidity may be the key factor promoting mould growth, dirt is usually to blame. Cleaning your carpets once a year can help to extend their life, keep them looking new, and prevent bacteria growth. Investigate carpet cleaning services in your region to guarantee regular carpet cleaning.
Sandyford Carpet Cleaning provides the highest quality carpet cleaning services. Their skilled staff will guarantee that no mould grows on your carpet and that you have a smooth and dependable experience with their solutions.